9 Best Free Joomla Templates 2021
Joomla is the best platform for e-commerce websites and online shopping. Comes with a rich Extensions store (JED) that helps you create a website easily in a few clicks. Template is the most important part of your website, the factor that attracts visitors to your website. So, if you are looking for the best and free templates for Joomla, you should read this article.
Templates are rated based on the following criteria:
Design (Responsive), modern and on trend.
Update and support time
Multiple layouts, suitable for many types of websites
Here are the top free Joomla templates of 2021 according to the above criteria:
JA Stark is a creative FREE Joomla template for business, company, and creative agencies with multiple theme color support, additional pages, and impressive page elements: slideshow, features intro, portfolio, services, projects, and more.
The free business template is the first template built with complete new T4 Joomla template framework with powerful built-in features:
Joomla 3 and Joomla 4
Powerful layout builder
New friendly admin panel
Advanced theme customization tool
New Megamenu Builder
Custom CSS, custom SCSS tool
And lots of other stunning features
Bootstrap 4 integration
Helix Ultimate is a universal Joomla template that can be used to build all sorts of websites. You can use it to launch websites for businesses, consultancy firms, insurance companies, online shops, portfolios, traveling updates, book collection,s and many more.
A site's popularity largely depends on its user experience. Helix Ultimate makes sure that your site is clean and smooth. Its modern and fully responsive design makes the user feel like they are walking around in their home.
The template is developed with Bootstrap 5 which makes its color and styling stand out from the crowd.
SP Page Builder, the best drag and drop site building tool is supported by the Helix Ultimate template. With the help of SP Page Builder, you can give your site the look of whatever you can imagine.
Mega menu helps you direct your visitors to their interested pages right from the menu bar. It saves them a lot of time finding the right item. Also, the badge functionality helps you draw attention to your users for a valuable item. Helix Ultimate is a great solution for you and your business!
JA Campaign is a free Joomla template to quickly build a community support campaign website with offer listing feature, offer submit system and customizable email systems.
The project is based on our real campaign - COVID Support campaign for the Joomla community with corporation from 40+ Joomla clubs and Hosting providers to provide good offers to support the Joomla community with their Joomla projects.
We want to make things easier for anyone to set up a campaign, so we decided to release the quickstart, you can replicate the campaign demo site, revise content and some more simple steps and it's ready to launch.
Feature Rich Free Joomla Template used right from Startups to Corporates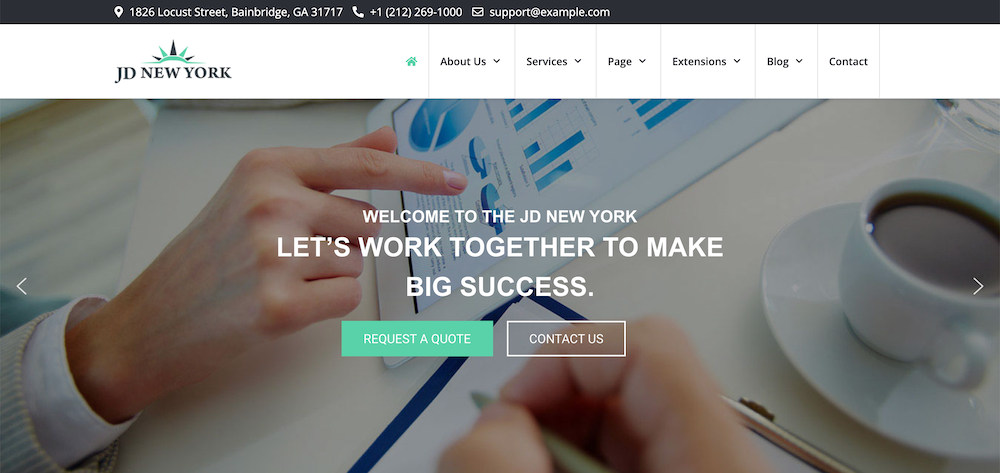 JD New York is a clean, multipurpose and responsive Joomla template designed specifically for creating business websites with online stores.
Key features:
Powerful Astroid FrameWork
Drag & Drop Builder
Fully SEO Friendly
100% Responsive
SmartSlider3 Included
Mega and Drop Down Menu
Need to create a fast-loading website to bring attention to your design projects or photography? With the lightweight and completely free Portfolio template for Joomla 3, you can have all the elements you need in one place. Easy to install, responsive for the full experience on any device or screen-size and packed with a range of helpful customization options, you can set colors, fonts, animations and image layouts all from the Joomla backend for total control over your site's look and feel.
Keep your online portfolio simple and accessible and grow your client base with this stylish open-source template.
Fully Responsive & Interactive Free School Joomla Template Compatible with Latest Joomla Version and Bootstrap 4
JD Paris is a simple, clean and free Joomla template best suitable for school & educational institutes. This template is packed with Astroid Framework to manage it easily.
Key features:
Newsletter Subscription
Responsive Layout
Number Counter
Fantastic multicolored free VirtueMart Joomla template based on VirtueMart free Joomla store extension.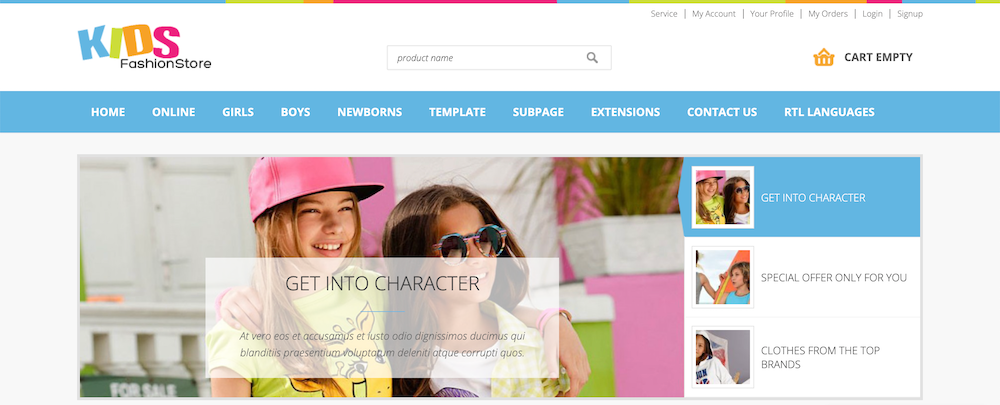 Besides excellent Joomla extensions, this free ecommerce Joomla template gives you numerous helpful items on the site that may suit your needs, for example, custom modules created especially in order to draw site visitors attention to selected products or focus on important information like delivery, refund or guarantee rules. Other examples are ready-made banners that can be modified with ease and used on your site.
The shopping cart free Joomla responsive template provides 3 color versions and many modules designs that can be set by using the proper module suffix - check details on the demo site.
A Free Joomla Template To Setup a Business Website & Online Store
Setup your online store, business website, a discussion forum or an event management website simply just with JD New Jersey Free Joomla Template.
Key features:
Powered by Helix3 Framework
Responsive Design
Pricing Table
 
This free Joomla 3 template has a demo site addressed to internet service providers but it's a multipurpose free Joomla responsive template and you may use it for any kind of websites related to providing services.
The Joomla 3 template is free so they have used extensions that are available for free. The one module DJ-EasyContact quick Joomla 3 contact module was created for the template purpose allowing to send customers their phone numbers to let the company agent call the customer.
Take a look at available custom HTML codes like table pricing, social icons, custom content that you may find useful for such kind of services.
Moreover, it also supports free Joomla 3 slider DJ-ImageSlider that is the most popular Joomla slideshow extension