Top Website To Download Free HTML Landing Pages Template
In this article, I will introduce you to a list of websites that allow free download of landing page templates. A big plus is that you can use them for free for as long as you want, and for any purpose. The templates on this website are all quality and you can see its demo before downloading.
The landing page template is built on basic HTML (may include bootstrap). So you can use it for all popular CMS platforms like WP, Joomla.
Cruip was founded in October 2018, dedicated to providing high-quality landing page themes. Since its founding, Cruip's landing page templates have been used by over 50,000 founders to quickly validate and launch their ideas.
Provide Free and Premium HTML Landing Page Templates, Bootstrap Themes, React Templates, Tailwind Templates, HTML Site Templates and UI Kits to Create and Launch Complete Website Beautiful Design Without Coding From Scratch.
Design Bombs was originally started as a web design gallery but recently it become a place to share web design ideas, tutorials, and other helpful resources.
There are several categories ranging from roundups of cool website designs, freebies, exclusive deals, and WordPress. Design Bombs generally strives to be a resource for designers who are looking to sharpen their craft.
Developed by Lucian, an FE developer passionate about creating HTML templates for websites and landing pages. Lucian created Inovatik as a resource to make it easier for developers and makers to build projects online.
Bootstrapdash creates web tools using the latest web technology so you don't have to design from scratch. Using their solutions, you can save time and money by focusing on your core strengths.
Lapa Ninja is a gallery featuring the best 4364 landing page examples, free books for designers and free UI kits from around the web.
3rdwavemedia has created a good collection of free Bootstrap templates and Sketch design templates to help developers build their personal portfolio pages and side projects. All the freeware here is created by our product designer Xiaoying Riley. She is working on more free templates for you so make sure to follow her on twitter or subscribe to our newsletter if you want to be notified when the next free one is released.
A collection of 84 Free One Page templates. Each template includes a review, long screenshot, live demo and download links. These free templates are great to quickly test our ideas before committing to a big project development.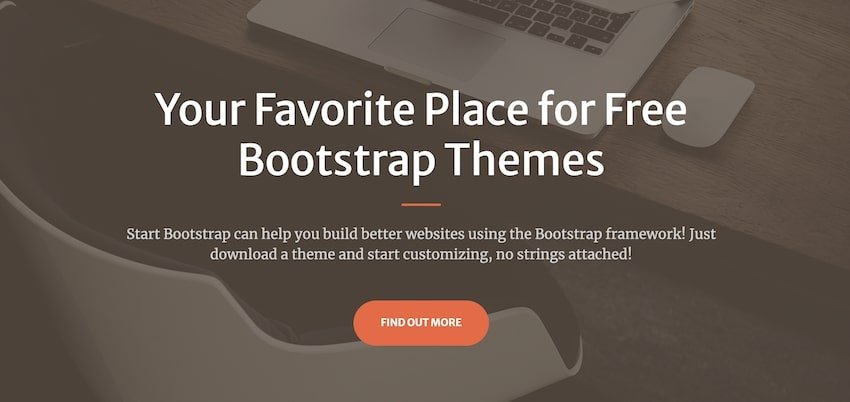 The free Bootstrap themes are ready to customize and publish. All of their themes are built with Bootstrap 5, MIT licensed and regularly updated!
Their templates are all open source and built using the standard Tailwind CSS configuration. Feel free to use them for any purpose, even commercially!
They create clean, elegant and beautiful free website templates and themes using Bootstrap, the most popular HTML, CSS & JavaScript framework